So, what does it mean to have "Consultative Services From An Auto Body Shop"? You may be familiar with the term consultative sale & service before, but your mind may picture a boutique hotel or a software company when you hear it first. While that may be true, consultative services is a general term that means to serve as per the requirements after proper consultation & not selling anything that's on-board, something on top of the regular service offered by a business. In the auto body repair business, that means the auto shop will go above and beyond to ensure you're well taken care of and satisfied. You are paying for the things your automobile actually requires.
It can be very stressful, and inconvenient, when you've been in a collision with another vehicle. You don't want to have to hassle with getting your car to the mechanic so body work can be performed. And if you have suffered an injury, you're in no shape to worry about the state of your vehicle.
In these events, many autobody repair shops, including Graham Collision, will go the extra miles beyond what is standard in the industry. This usually involves picking you up and towing your car, but there are the many services that could be included as part of consultative car body shop services.
Urgent Towing By Auto Body Shop
This is a primary and the most common part of the consultative services your trusted collision & body repair shop can offer. In an unfortunate event you are in a car accident, your automobile may not be in a condition to move or get operated. This is a common condition in a serious collision, but you often have search a tow truck online or call nearby towing services to come get it and drive it to your mechanic. This can be time consuming and expensive.
At Graham Collision Repair Shop, we don't put you in such a situation. Our team offers you quick towing services whenever you need. Just one call, and our team members will be there to help you with the tow and get your broken car or truck to our bodyshop where expert mechanics will take care of everything.
Pickup & Drop Offs By Collision Repair Team
In many serious collisions, it's hard to commute after towing, as you don't have any car for a while. Perhaps you have an extra car at home and don't need to invest in a rental car; however, you do need a ride back home after your damaged car has been towed to the shop. This poses a major convenience to you so you don't have to bother anyone to come pick you up from the scene of the accident. Your friends and family will appreciate not having to leave work or school to come get you!
At Graham Collision, we understand this very well. So, we're ready to offer you easy pickup & drops from the towing site to your home.
Cleaning & Detailing
We know that the last thing you want to see while receiving your car back is – any sign of the collision permanently patched on your car. That's why our mechanics are extra focused on cleaning & detailing, once the damages are fixed.
We offer full body wash, interior cleaning with power vacuum and smudge removal on the exteriors & glasses. [check our Minor Repair services.]
Get In Touch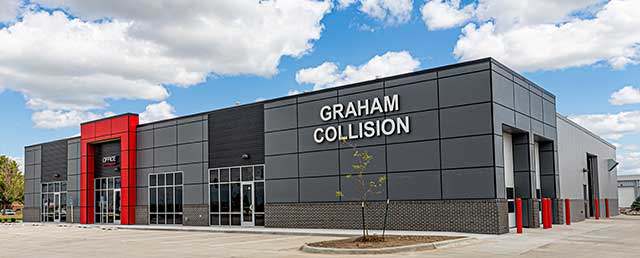 Connect with us & be on the list for any possible emergency. We'll keep you on our database & be ready to help on a single call. As they say, "It's better to be prepared, than to be ready."
For any Auto Collision Repair job in Des Moines, IA – Connect with our team now or CALL US NOW!